This post is a response to my previous on Mission and 'Vulnerability', which provoked a few questions, these were a few of them:
'As a youth worker I see these as our daily bread, what have we forgotten in the church, that we are so fearful of the community and having our lives laid bare?'
and
'it is so much more tempting to rely on programs that look "tried and tested", or cling to "business as usual" when all seems so shaky.'
What I was suggesting in my post was that without an element of vulnerability then it would be difficult to be perceived as authentic. If you want to read the post it is here: Vulnerability as the starting point in community transformation.
In regard to youth ministry, young people and possibly churches overall; Jon Jolly suggests that there is something of a generational half life occuring in churches. For every generation that passes, attendance halves ( Jolly, 2015, 30). While this could be a wake up call to change methods it also reinforces a protectionism to try and keep what weve got. 
It doesnt take a rocket scientist to understand the effect of the projections of attendances for the church in the future, or where they have decreased. It doesnt take a rocket scientist to work out the pressure on those involved in the church as ministers and clergy to 'increase numbers of people' , or the effect of having to reduce clergy posts in deaneries – with no replacements or initiatives to maintain faith presence in areas – ie not even recruiting pioneers to start faith from scratch..
The Effect is status anxiety. And fear.
When the church also faces competition from many competitors, not just a global-technological-consumerist worldview, but also other religions in the UK and thirdly, as a consequence the place of the church is society is no longer quite a dominant (ie post-christendom) though it is still quite amazing how interested the media is during synod, or other religious decision making.
So, because the church is reacting in its own state of status anxiety, or at least in local congregations it might be feeling defeated, under resourced, under pressure (to shrink clergy posts), churches at the same time are undergoing what i call 'initiative-itis'. Trying the latest new idea to help 'stop the rot' whatever stopping the rot looks like. Its that generational half life stuff again. But the initiatives keep on coming, the latest event, the product, the promotion.
Often the packages come gift wrapped, with stories of amazing success elsewhere – only adding to the pressure.
The Theologian Kevin Vanhoozer suggests : " As in Philippi, so todays church struggles with status anxiety in the face of the new empire of popular culture, like status anxious individuals, some churches may be tempted to employ the tools of this empire, such as mass marketing (or social marketing), to achieve larger numbers and reckoned a success in the eyes of the world." (Vanhoozer, 2014, 186)
How much of the activities of the church at the moment seem to be about solely numbers of people attending something? or getting people to 'a thing'?  Or pressure to do 'a thing' so people turn up – even so it can then be celebrated on social media as a 'thing' that has been done. I might be too critical, but does it not emphasise what direction and effect status anxiety has had on the church.
It would be easy, as the comment above suggested – to 'do the tried and tested' – yet the tried and tested isnt actually working!  The question has to be continually asked – what does the church do, that no other organisation or agency can? – and as the state is shrinking and the funding for voluntary groups squeezes, the church has ample opportunities for this space. from being the local library, post office, youth centre, luncheon club, after school kids club, sports facility… and thats just the start… what about listening service, pastoral care, community chaplaincy, etc etc…  Being vulnerable might just be do one of these things, and gather local interest and resources to enable it to happen.
Whilst it might take vulnerability to act completely differently towards people in local communities, listen, and engage. The risk taking the church is doing by heading into maintenance and safety mode is tantamount to giving up.  Theres something in this cartoon: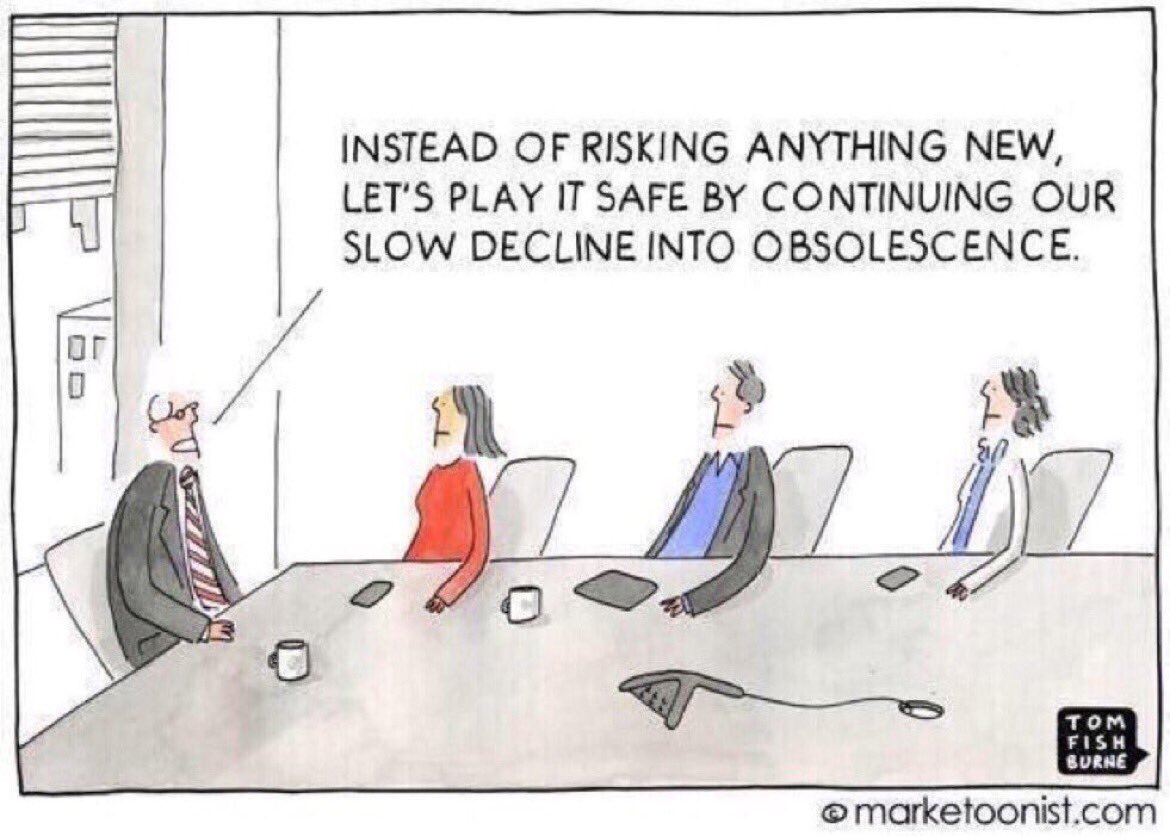 If Status anxiety is harming the church, then equally so is the drive for efficiency and effectiveness. If the church has lost being important in a local community, then it needs more resources to enable it to be so, closing the door and knocking it down for housing is giving into the market forces both in intention and in result.  Not taking risks and being vulnerable might be the biggest risk and most vulnerable thing the church can do.
 In a way the church has got nothing to lose! if its press is that it is declining anyway, then why not go for it!  
What will a risk taking church look like – probably the one that welcomes refugees, widows, the poor, the disenfranchised, the lonely and walks with them. Its the one that challenges oppression from the pulpit, the one that loves unconditionally, the one that listens to its community and builds faith from within it. Its the one that offers people a connected coherant story of hope amongst a plethora of individual stories that lead to debt and despair.