What do churches mean when the job advert says 'pioneering & creative' – has someone before ran out of ideas? – and its a new idea that is always required?
My previous post exposed the frequency in which youth ministry adverts require someone to have innovation and creativity within their personality and skill set. It has been quite a well read piece, with a number of ensuing conversations, especially as innovation and experience and passion and qualification might be a mix often required, but almost now impossible to find. But one of the questions from this is, what wrong with 'non' innovative youth ministry – and maybe more pertinently – are there risks to trying to stay innovative?
There has always been the drive for the new idea – since 100 best ideas for youth ministry, 50 icebreakers, 60 great ways to talk about Jesus, 97 stories that will make young people cry and come forward to Jesus all were published (sort of) – it seems finding ideas is tantamount to the style of education and teaching in youth ministry. And it doesnt still stop…. because the vicar is still asked to do an assembly, the youth minister is asked to do 'a service' or talk – the market for ideas is still there. Ideas driven youth ministry is still alive and kicking.
The risk might be to forgo the ideas, the challenge might be to develop different patterns for youth ministry. The reflection might be on why ideas are crucial, and what is this saying about what we think about youth ministry or the church and its message? Are we afraid of what the gospel requires of us and young people, and wrap it up into something quite different? Does a drive for innovation cause us to forget some of the good stuff and ways of the past that were good, and are as or more appropriate now than before. Why the trend for innovation? and its bed-fellow 'risk taking'?  
A youthworker in the south of England, Loyd, shared with me their story and reflection on 'risk taking' on 'innovation' and the effect this had on him, his youth ministry and church. His story is as follows:
'A few years ago I was at Soul Survivor with my youth group.  At that time I'd been in my post for 8 years (10 now), and was feeling tired and praying for direction.  You know the sort  . . . is it time to move on? switch gears? or dig in and keep going?  I went to the youth worker morning seminar, which was being led by two prominent youthwork/ministry leaders in the UK.  The session was all about the need to take risks in youth ministry and push to be innovative.
While I think that message is needed, I left the seminar feeling very tired and wanting to hang up the whole thing.  Bear in mind, 8 years prior my wife and I felt the call to leave our home in America and do youthwork in a rural village in the south of England.  We then spent the next 8 years carving out a niche for youthwork in that specific context.  I had previously worked for a megachurch in Atlanta, GA (9000 members, 3500 in attendance on Sundays.  We could easily take over 100 kids to summer camp, to get some perspective).  We had already taken a huge risk in moving to another country, giving up all we thought we knew about youth work (at least in an urban, megachurch, American setting) and started over.  We were now reaching 60-80 kids per week, most of whom are non-churched/non-Christian, and loving life.
Fortunately for me, I had an encounter with the Lord that weekend and gained some renewal/personal revival and some clarity about why I do youthwork in the first place (that's a story for another time perhaps), but what's relevant for this topic is that while there is a much-needed conversation about risk-taking and innovation, there's just as much a need for us to talk about NOT taking risks–being consistent with young people, staying somewhere for a long time when possible, building up a youth work programme/ministry in a community that is sustainable long-term, making a real felt presence in a community, etc.'
I wonder, is this some of our reaction when there's a drive to be 'risk taking'? In these pages on this blog, I know I have communicated 'developing dangerous discipleship' or shared ways of helping conversations with young people take more risks. Can it be tiring to keep trying the something new. Has entrepreneurship and ideas taken youth ministry into a specific rabbit hole of pioneering and ideas creation. with the fall out being the burn out of the youth worker, who eventually runs out, and hopes to read a book or go to a conference, like the story above, just to get a new one.
I asked Loyd a number of further questions, based on his story;
What might be the issues with innovation/risk taking? for the youthworker, for the church/agency and for young people & parents ? 
L: ​Risk-taking and innovation are really valuable tools for youth work.  However, they must not be the only tools in the box.  The youth worker who is always taking risks will risk (sorry!) personal burnout, or frustration for young people, parents and line managers.  For instance, a youth worker who is always changing programmes, or frequently taking on risky projects will lose young people or parents who cannot cope with the frequent changes, or may lose confidence in those supporting the youth work.
Why is there a fixation with taking risks and being innovative? – does it reveal something we might be afraid of? – (being settled/complacency/getting 'old'/ our own boredom) 
​L: The fixation is driven by a lot of factors: by media/social media obsessions with anything new and shiny; by the fear/anxiety we are not doing enough (cf. Mark Yaconelli's work on youth work that is driven by anxiety vs driven by love); and as you touched on, it can also be driven by our own boredom.  To this, I would counter–sometimes it is enough to journey with young people and lead them toward the love of God.  Sometimes (not always) boredom is ok.
What about with older young people – could actually growing 'old' and settled and having a youth ministry that is 'grown up' and not trying to be new could exactly be whats needed… ?
​I have the privilege of working in a rural setting where I often get to see young people grow up from primary school age into young adulthood.  Our youth centre has a trusted presence in the community, simply because we've now been here for a long time.  There are some things you can only do in ministry once you've been present for 10 years.  The flipside to that, of course, is that it can become 'old hat' and there is a real danger of complacency or a lack of self-awareness.  So there is always a need for reflection and evaluation.
What happened when you stopped trying to be innovative? (for you, for your young people?)
​I think there is a certain amount of freedom in not basing your youth ministry on gimmicks or fads.  Tools, resources, and even innovation are great if used wisely, but they will never replace the value of time spent with young people listening, offering prayer, unconditional acceptance, and offering your truest self in love and integrity.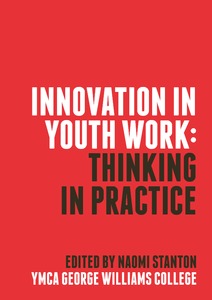 Maybe there's something to be said about being innovative, what if the previous youthworker 'lost' all the young people, maybe there is a different way to do things, maybe also there's a different way to do things that the management and church want, that a new youthworker has to do – that the previous one didn't do. But innovation is contextual too. A drive to do something different than a God-slot, for example might be 'innovative' , yet a youthworker who already doesn't do this, and has open spaces for conversation with young people, might be already doing the 'innovative thing' that is being suggested, already taking the risk. But from the front, from a blog piece and from the perspective of a resource, this isn't always known.
Thinking slightly differently, what if innovation came not out from resources but from the conversations with young people anyway? What if its innovative to just be with young people in the present, what if its innovative to listen and do empathy? None of these are new, just good, solid, open, young people orientated youthwork that has been going for a very long time. But if that sounds innovative, then so be it. Maybe its innovative to value young people, not the programme, value young people as spiritual, not lead them to a spiritual place, to hope and dream with them and create provision together. Maybe its innovative to not think of the what next and just be. Innovative to slow… right.. down and offer young people silence instead of crazy busy change.
Should we take risks with young people- by doing youthwork we might already be. Sometimes we just need to stop and remember how risky working with young people already is. Sometimes we might remember that young people grow up with intensive change, one thing we can that is risky is to be the same.
Additional:  Having written and reflected on this for the last 24 hours or so, I have began to think on how
improvisation
 might be whats required for youthwork practices, instead of innovation, for if our youthwork is about increasing participation, about conversation, about relationship (which may be the innovative step in itself) – then developing from within the space as the conversation occurs is the task of improvisation, building from where the action is. As Rev Hamilton said in 1967, we need strategy from the point of action, externally imposed ideas and strategies are not appropriate for young people who are nothing like us. So, If its improvisation, rather than innovation we need as youthworkers, then do have a look at the link on this above, and the 'improvisation' category tag on this site.