All together now, you know the tune:
'The wonderful thing about youthworkers

is youthworkers are wonderful things

their tops are made out of rubber, their bottoms are made out of springs

Theyre bouncy, trouncy, flouncy pouncy,  fun fun fun fun fun

but the most wonderful thing about youthworkers is i'm the only one….

Youthworkers are cuddly fellas

Youthworkers are awfully sweet

Ev'ryone el-us is jealous

That's why I repeat… and repeat

The wonderful thing about youthworkers

Is youthworkers are working all hours

They're burdened with being all jumpy

They're running on overactive powers

They're jumpy, bumpy, clumpy, thumpy

Fun, fun, fun, fun, fun!

But the most wonderful thing about youthworker is

I'm the only one
A cursory look at the most recent job advertisements for youth workers and ministers, not only reveals that a pioneering/creative spirit is required, and so is qualifications, but that the most common attribute for the 'new' youth person is that they are the following……
EXCITED! (and closely followed by..)

PASSIONATE!
and the job is usually exciting too!
Everything is exciting, Everything as LEGO says is Awesome… I have seen roles for administrators being described as exciting, in the same way i have seen roles for running Sunday schools as exciting opportunities, and also developing new pioneering youthwork as exciting too. Everything is exciting. The person needs to be excited. The person needs to be passionate. In short it feels as though any new recruit to a youth ministry role needs to be some kind of 'christian tigger'.
Bouncy, fun, lively, on the go, busy busy busy, no time, no stopping, hours upon hours, happy, smiley, exhausting powers upon powers and ideas and on the go, passionate, excited, creative…
Lets ask a question: Who might be wanting 'Christian tigger'? the church or the young people?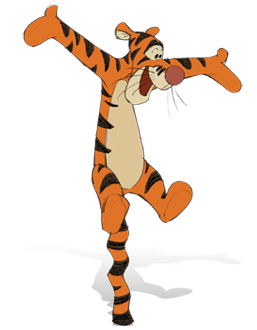 If it is the church in general, why might a church want someone to be 'passionate' and describe that their role is 'exciting' or that a person needs to be 'exciting'?
Is this just good sales techniques? and attempt to make the role attractive to the prospective applicant?
Possibly. Or maybe theres something more than this.
What if instead it wasn't just good sales, but that deep down there's a fear that the local church needs a pick up, an energy boost, a lift and it is the role of the 'new/excited/passionate' youthworker to somehow lift the local church out of a bit of the doldrums.  Don't get me wrong, its almost human nature to want a new person to add energy or something new to an old way of being (though ironically, how much change is a youthworker allowed to actually fulfil..) . But there's a deep down fear as well, that Andy Root suggested in 'Faith Formation' ;  because of society's equation of youthfulness with authenticity – and anything that seems old fashioned/old is not authentic – then what a local church might be buying into with the 'passionate youth worker' is for that person to be the person that helps them to starting thinking and being youthful again.
There's a fear maybe that a church is getting old, and the enthusiastic youth worker might be the person that helps the church feel young again. Is that the real reason an enthusiastic person is required… that's some responsibility… not just bring youth into the church, but bring youthfulness too. What do you think – ever seen this happen?
Whilst 'passionate' is flavour of the decade for the youth worker role – whatever happened to compassionate? 
Again, a quick cursory look around the youth ministry job adverts, and compassion is lacking. Even in some of the job descriptions, passion is ahead of compassion – its compassion that may just be what young people need/want – and empathy – well above just someone who might be 'passionate' to be there and full proverbially of themselves. Compassion situates the 'ministry' of young people with young people – young people as primary. Compassion is about the other. Because as we fundamentally, young people don't care that much about the youth worker anyway, or the church, or the ministry, or the activities, they are more interested in themselves – so the more compassion a youth worker has the better. The more the youth worker is less of themselves, less of their own powers, passion, ministry – and the more listening they do and being interested in young people the better.
This is nothing new, Young Life in the 1960s, developed contact ministry – in which youth workers would spend more time in the world of young people than the opposite, be in their space. Be less passionate, be more dependable, be more compassionate, or more enthusiastically present.
If young people designed job adverts for the youth minister- would they opt for passion or compassion, what do you think?  Because they're looking for passion and excitement, are churches are looking for is someone for themselves – not just someone who is for and with young people?  And yes of course it might be a bit of both. But is it passionate excited youth ministers who churches have in mind in their job adverts…
Why might churches want a passionate, excited youthworker ?  Because maybe, there's too many Eeyore's in the church already, and a tigger is needed.. What happens when the Tigger cant be Tigger anymore?
What if a youth worker helped churches to be more compassionate about young people in their local community, to fight for injustice and help to remove barriers – would compassion lead for something good happening that the church locally could be part of. Not just the passionate youth worker tries man/womanfully to engender youthfulness or passion in the church and ministry of it. I wonder…
NB – And sorry, the tigger song will be going through your head for the rest of the day now…
References
Root, Andrew, Faith Formation in a Secular Age, 2016
Ward, Pete, Youth work and the Mission of God, 1997